THE GROUP
The SKP Group is promoted by well-known figure in Ferro Alloys and Steel Industry, Mr. S. K. Patni. The group is successful in all the diverse aspects of business – Manufacturing, Trading, Import & Export. It is one of the largest merchant producers of High Carbon Ferro Chrome, Silico Manganese, Ferro Manganese & Ferro Silicon in India and exports 70% of Ferro Alloys manufactured to countries all over the globe. The group is diversifying into Stainless Steel and Power sector, followed by Cement.
Rohit Ferro-Tech Ltd.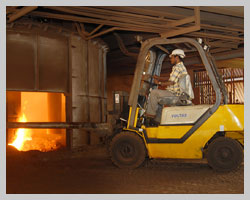 A well-differentiated player in the Ferro Alloy manufacturing sector, Rohit Ferro-Tech Limited (RFTL) operates with a vision that inspires, and a business strategy that sustains An active player in both domestic and international market, RFTL's product mix is aimed at catering to the high demand globally as well as maximizing on returns. The Company manufactures High Carbon Ferro Chrome (H.C.FeCr), High Carbon Ferro Manganese (H.C.FeMn), Silico Manganese (SiMn) and Ferro Sillicon (FeSi) through Submerged Arc Furnace (SAF) route.
Presently, with the total installed capacity of 300,000 mtpa, RFTL exports nearly 70% of its production. The company is in the process of setting up a 67 MW Captive Power Plant at its jajpur unit.
In an attempt to forward-integrate, RFTL is also setting up a 100,000 mtpa Stainless Steel facility at its Bishnupur unit. On the side of backward integration, RFTL has acquired interest in two coal mining companies in Indonesia - Thermal Coal and Coking Coal to feed its Power Plant as well as coke requirement for it's ferro alloys production. .
Impex Metal & Ferro Alloys Ltd.
Impex Metal & Ferro Alloys Ltd. is the flagship Company of the Group, which is mainly into trading, import & export of various ferro alloys, metals & minerals. It has been trading in Ferro Alloys in India and around the world from the past 2 decades. Currently, it is the sole marketing agent of Bhutan Ferro Alloy Ltd.'s Ferro Silicon in India with a distribution network of 11 depots across India. The company caters to all major steel industries, railways, defense, etc. The company is in the process of setting up a manufacturing unit at Vizianagaram, Andhra Pradesh for manufacturing of premium quality of Ferro Silicon and other Ferro Alloys. The plant is going to have a capacity of 23,175 TPA of Ferro Silicon.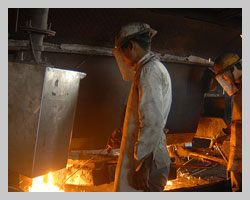 Ankit Metal & Power Ltd.
A diversification of the group into Steel-making, Ankit Metal & Power Limited was floated in 2005 as an Integrated Steel Plant to produce 100,000 mtpa of Rolled products comprising of Sponge Iron, Steel Melting Shop, Billet Concasting and Rolling Mill along with 12.5 MW Captive Power Plant. The Company's ANKIT-TMT BARS are well accepted in the state. Presently, AMPL is an Integrated Steel Plant comprising of: (i) 1,05,000 TPA Sponge Iron Plant (ii) 121,890 TPA Billet Casting Plant (iii) 100,000 TPA Re-Rolling Mill (iv) 8.5 MW Waste Heat Recovery Based (WHRB) captive power plant (v) 4 MW Atmospheric Fluidised Bed Combustion (AFBC) based captive power plant (vi) 5.5 MVA sub- merged arc furnace with a capacity of 12,325 MTPA (vii) Stainless Steel Billets - 36,000 TPA SKP Overseas Pte. Ltd. SKP Overseas Pte Ltd, Singapore, is a wholly owned subsidiary of Rohit Ferro-Tech Ltd, and investment arm incorporated in Singapore. It has got a 60% economic interest in Coking coal asset - 5 million mt and 60% economic interest in Thermal coal asset - 20 million mt in Indonesia.